22 plus years Expertise in Art educational services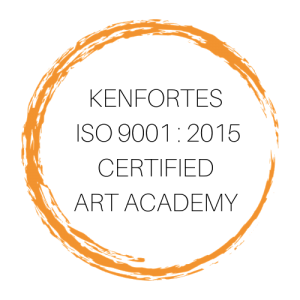 KENFORTES  – MAIN ART STUDIO
585, 12th cross J.P Nagar 2nd phaseBangalore, Karnataka,India – 560078
KENFORTES – BANNERGHATTA ART CLASS
Kenfortes Art Academy,
No. 510 A, 5 th main , 5th Cross Road,
Bilekahalli, Vijaya Bank Layout,
Bannerghatta Road, Bengaluru,
Karnataka, India 560076
KENFORTES – BTM LAYOUT ART CLASS
Kenfortes Art Class,8th Cross Road, Narayan Gowda Layout, 1st Stage, BTM Layout 1 Stage, Bengaluru, Karnataka 560029
Online fine art classes - children course
Online fine art classes - adult's course
I've never attended online art classes before. I would like to know how it works?
Classes are conducted through video call platform ( like skype , zoom , google classroom ) with minimum number of students. Art class lessons can be accessed through our website homework pages. Our online class is a combination of video chat interactive sharing , Digital painting software screen sharing,  whatsapp corrections and reference sites and art videos watching . Also student group interactions along with an art teacher. All lessons are typically demonstrative with new techniques providing you an thorough learning. You are provided with optional art assignment for trying on your own at home.
How can I attend a trial class online?
Contact +91 9591593303 or Whatsapp to know more about art courses , to fix a trial class and to attend Art as meditation programs.
What art stationery will be required for my classes and Where will I get them?
Where will I attend my offline art classes?
Kenfortes art and crafts school Bangalore Offers fine art courses and art as meditation classes online and offline. Students can attend their classes offline on all given locations
Offline fine art classes at
JP Nagar, Vijaya Bank Layout Bannerghatta Road , Jaya Nagar and BTM Layout - Bangalore - India , center address given above or you just can call for all info.

What is Art as meditation- is it an regular art class?
It is not a regular skill enhancing art class. It is a program helps us to use art as a tool to relax and realize our possibility to create beyond our limited thinking patterns.
KENFORTES – Offers Meditative art classes 
ZEN ART
MANDALA ART
ZEN TANGLES
SPONTUS CHILDREN
ART AS MEDITATION
click to know How to use ART AS MEDITATION – A Simple tool to free our self from self imposed problems and just being our self 
SNIPPETS ABOUT MEDITATIVE ART SESSIONS
Zen art and zentangles – Zentangle A meditative art course which does not require any skill , but needs willingness to play and create original Pattern art using pens and colors. The program helps to develop focus , attention span and helps to calm down the agitated mind, bringing peace to a worried mind, increases one's performing ability in their office or work place.
The ZEN ART is simple but it brings immense satisfaction , helps in personal and universal well being. A wonderful practice for busy corporate employees, house wives, college students, non-artists and artists, If you just know how to hold a pencil you can create magical art !
Art therapy – A RELAXING PROGRAM to cleanse bring joy to the worried , depressed entangled mind.
Expressive Art – Who are in very conditioned environment or brought up in a strict, closed situation has lots of things stored in their system which is throbbing to blast out . Let's express them in canvas not on people or living beings.
Spiritual Art and Visual meditation to know your unknown potentials, touching your inner core. To neutralize one from the game of duality , being here now in this moment, in this phenomenal energy. A technique to reconnect consciously with our vital forces.
---
What are the courses for my children and is there a chance If I want to attend art classes myself along with kids?
Kenfortes art and crafts school offers 
Visual Art courses for children  
Fine arts- drawing grade exam-coaching 
NATA sketching
Animation basics
Fashion design basics for college students
Hobby art classes for adults and
Art teacher training course at JP Nagar.
As there is difference in course content for kids and adults. It is better adults and kids attend in different batches.
KENFORTES CHILDREN ART COURSES – 4 LEVELS
Duration minimum 5 months each level –
level 1 and 2 are Basics , Level 3 and 4 are intermediate to advance structure.
LEVEL 1 – 2D Drawing, simplified Flat figures, colouring skills, ..see more info in art classes page.
LEVEL 2 – 3D Drawings, composing figures & creating composed art works, more
LEVEL 3 – 3D art works, paintings on canvas with
projections, Musical art……see more info in art classes page.
SPONTUS –  Spontaneous art play for children – a stress relieving Art program includes – Visualization, drama,  process of creativity, observing silence & sound, science &  Art of meditation, out door study – touching through eyes, art as an self expression…
As per many students and parents interest from Mysore and Bangalore Indiranagar towards Kenfortes children and adult's art classes, We are in process to start our Art programs in Mysore and Indiranagar soon,  For special art courses at Mysore , personal art training and art tuition, students can use the same phone number above given.
                   Wishes to experience & explore visual art with KENFORTES.
                    Join us to create & learn painting as a happy & easy play.